How To Guide
Step by Step User Guide
Account Registration
---
Once you have sucessfully downloaded the Vircle application and powered it on, you will be prompted either to LOGIN or to SIGN UP. If you have already registered before, proceed to LOGIN, else click on SIGN UP.
You will be prompted by several welcome splash screen before being show the registration screens of Vircle. You will be prompted to enter the following: Name: Email Address : this will also be your login email and account identity
Phone number :
Password :
Password confirmation Password must be minimum 8 Characters, includes at least 1 small , 1 capital alphabet and numbers.
Once your basic account has been registered, you will be required to access to our terms of use, followed by the E-wallet activation screen. The E-wallet registration details are required by law, inclusive of a "SELFIE" photo. Please note that its an offence to give false information here as the Wallet registration is governed by the Financial Services Act 2013.
Congratulations, you are now a Vircle user and will be taken directly to your Vircle Dashboard.
---
Vircle Home Dashboard and Vircle Groups.
---
The Vircle Dashboard is the 1st thing you see once you have sucessfully logged into the Vircle Application and reached your Vircle Home screen. On the top of the application you have a Vircle Summary. It gives you 3 types of information:
My Wallet : Shows the available balance on a Parent wallet. V Give : Shows total spend approvals a Parent or provider has given to dependants V Receive : Shows total spend approvals you have received from others, valuable for older dependants whom you may have their own Vircle Accounts.
In the screen centre is big Doughnut chart which gives you a summary of all "V GIVE" or spend approvals you have given;

Given

- Approvals that have not been been consumed or spent by your child.

Used

- Approvals which are either partially or fully Utilized

Expired

- Approvals which have passed its expiry date. Once an approval expires, it cannot be used anymore by your child.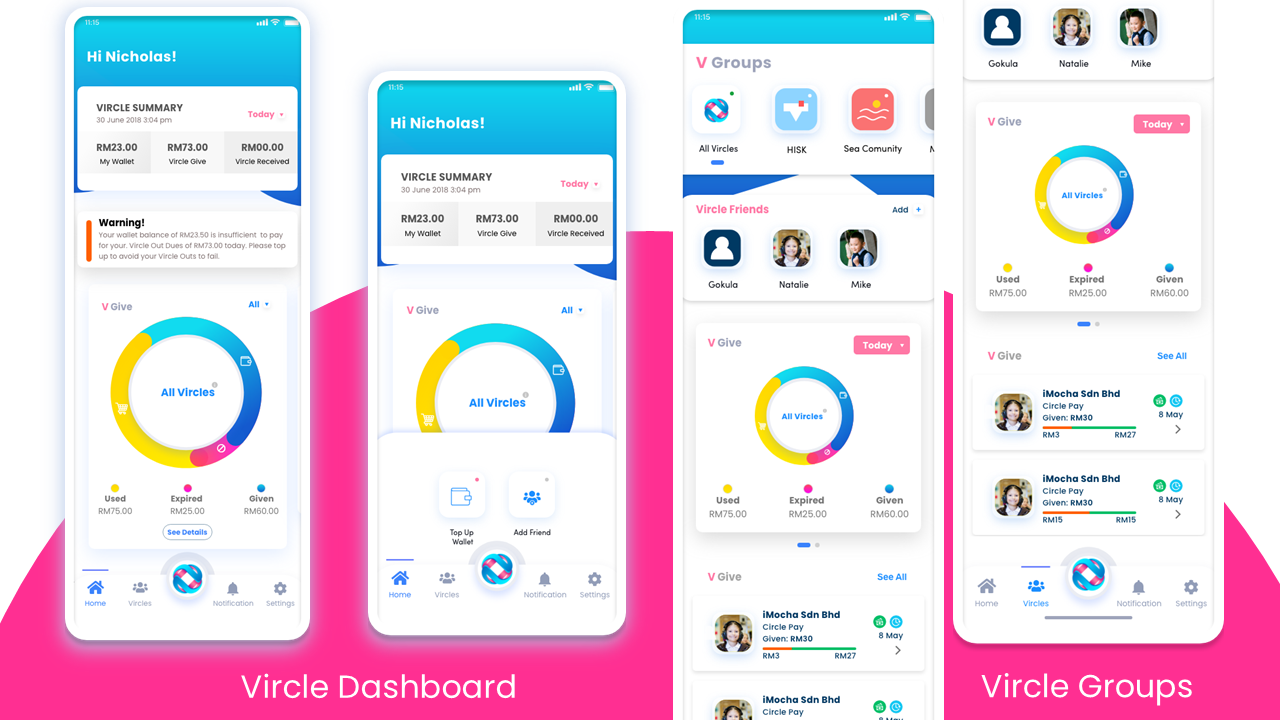 At the bottom are 5 Menu items :

Home

: Brings you back to the dashboard view

Vircles

: Takes you to the detailed Vircle groups Page

Vircle Icon

: A quick access menu which allows you to top up e-wallet or add a Vircle friend.

Notifications

: Takes you to notification page which summarized all transactions

Settings

: Allows you to perform account related operations.
---
Adding and managing a V Friend (child)?
---
Each V friend (child) in Vircle must be provided with a unique QR code by Vircle, either through an invitation brochure or Vircle QR card. To add a friend, you may do so through 2 methods.
Method 1 : Within the "

Vircles

" Page, within "

V Friend

", you will notice an "

+add

" button, which you can click. Method 2 : Click on the

Vircle logo

quick launch button from your menue bar, it will pop up quick options, click on "

Add Friend

".

On selecting add-friend, you will be prompted on how you would like to add a friend. Vircle support both QR scanning and invite codes.
Vircle does not allow anyone to arbitrarily add a friend (A child). You must have an invite from your Child's school with a Valid QR card or invite brochure with a unique QR code for your child. You must only use this unique QR code to onboard your child as in some schools, this code is automatically mapped to your child's student card.
Once you scan the QR code, you will be taken through a friend registration process. Take note, as Vircle enables a child to consume from a Parent Wallet, its imperative for legal reasons for us to have a valid identity of the child being linked to a parent account.
*In some school circles, health input such as allergy and notes will not be present in registration process but within the health and wellbeing service.
You will be required to provide the following data when adding Vircle Friends into your trusted friend list.
1 - Photograph selfie of friend 2 - Full name as per IC 3 - Nationality 4 - NRIC Number * Items 2,3,4 are required as per BNM regulations. Item 1 is required to make sure a child is properly identified at a merchant store via photo ID.

One you have registered your child's identity to the QR card, you will be prompted to provide some basic information about your child's allergies and notes to merchants. Parents with children that have allergies can select the allergy details here and such information will be presented to the merchant when transacting.

Notes section are for parents to place additional notes that merchant can read. These are advisory notes which help merchants understand your child better when serving them. For example, If your child is unable to speak or has hearing or vision difficulties, you may add these into he notes section and this will help the Vircle merchants understand your child better. Take note though, depending on the school your child belong too, allergy and health details may not be collected at the registration process but can be dated via the health and well being service.

Upon completion, you will be presented with your own personalized

Vircle Friend profile page

;
The Virle Friend page has several options :

Settings

- Allows you to make changes to friend details, update the QR code in the event your dependant QR card is lost. You may also stop and pause approvals you give to your Vircle Friend in the event the card is lost or the service is discountinued.

Health

-

Available to participating Schools.

The Vircle health service enables parents to have detailed analytics, insights and nutrition details on the food choices children make in schools. It allows parents to coach children and schools to gamify healthy eating with the aim of solving childhood related non-communicable diseases linked to food intake. Transactions - Details of all purchase transactions done by your Vircle Friend through approvals (V-GIVE) you have given to your Vircle Friend.

Approved Stores

- Outlines all the stores and oulets your Vircle Friend is allowed to use the Vircle platform in.

V Give Approval details

- All V Give Spend approvals you have given your Vircle Friend. These are approvals your Vircle friend can use to spend at specific stores, items, ammounts you have pre determined when you created those V Give approvals. Find more details in "V Give approvals"
---
Giving a Spend approval to a dependant
---
There are several types of V GIVE approvals you can give your V Friends. The type of approvals depends on what has been agreed by the store owners of your Circle or School. Typically we currently support 3 types of V Give approvals; 1- Cash Allowance - Allows your V Friend / Child to spend and approved ammount of cash at the selected stores and dates you have determined. 2- Product Selection - This is when you pre-select the products from the store which your V Friend can pick up. Not All store owners support this currently. We will slowly start encouraging store owners to list their products for pre-selection. 3- Meal Plans - Specifically for use in schools which support meal plans pre-selection. This allows parents to pre-select and pay for meal plans offered by the school canteen. Not all users will see meal plans as its dependant on the school enabling it for parents Once you have determined the type of spend approval, you will be prompted to fill up the details of your approval. This is where you as a provider will be allowed to set the rules on how your spend approval can be utilized. Store Selection Step 1 is to select a store. If you are providing a cash allowance, you may select multiple stores where the spend can happen. If you opt to select Items, meal plans or access, these are usually customized to a particular store, as such you will create an approval for 1 store each time. Frequency of Spend Approvals
Once you have determined the type & store, you will be required to decide on the frequency. Currently Vircle supports daily recurring and also anytime spend frequencies. For daily recurring, you may select multiple dates within a calendar month for each approval. For Anytime frequency, you can select and start date and end date during which this approval remains valid.
Spend Approvals - Once anytime Cash
Lets start with giving a

cash Approval with frequency ONCE-ANYTIME

. This means you are giving one off approval for spend anytime during the valid dates. This is suitable if you are giving a monthly allowance of spend where you do not wish to impose any daily limit on allowances.
Step 1: Select the Approval Type as Cash value
Step 2: Select the Stores where this spend is Valid
Step 3: Select the Spend Frequency as Once Anytime, set total amount
Step 4: Select Valid dates - You must have a start date and expiry date
Step 5: Click next and confirm.
Step 6: You will be prompted to enter you 6 Digit Transaction PIN created during registration process.

For Anytime approvals, your dependant may use this approval to spend whatever the amount you have stipulated until the expiry date. After the expiry date, this V GIVE will expire.

Example: If you wish to give your V friend a monthly allowance for January 2020 for MYR 400 across all stores in your school, select All Stores, Select Once Anytime, Put in RM 400 in the amount box, select start Date as 1st January 2020 and End date as 31st January 2020.

Spend Approvals - Daily Recurring Cash

The other type of

cash approval is with frequency daily-limit

. This is used if you wish to set limit of spend per day for your V FRIEND.
Step 1: Select the Approval Type as Cash value
Step 2: Select the Stores where this spend is Valid
Step 3: Select the Spend Frequency as Daily limit, set daily limit amount. If you Set Rm 5, then your V friend will be allowed to spend RM 5 on all days you have selected.
Step 4: Select Valid dates - You may select multiple days here. For each day you select, your V friend will be entitled to spend the daily limit amount.
Step 5: Click next and confirm.
Step 6: You will be prompted to enter you 6 Digit Transaction PIN created during registration process.
In daily limit approvals, your V Friend may use this approval to spend whatever the amount you stipulated for each of the days you have selected. Any unused amount for the day will expire automatically after 12 midnight on that day. No carry forward is allowed.
Example: If you wish to give your V friend a daily allowance of Rm 10 per day across all stores in your school, select All Stores, Select Daily limit , Put in RM 10 in the amount box, select all the dates you wish to give this daily limit, select Next and confirm selection.
Fantastic, you have now given your child/V Friend a spend approval. Your V Friend may now just walk up to the stores, scan their identity such as their school card, Vircle QR card or Vircle wearable devices to identify themselves and spend your given approvals. When a payment occurs, you will receive real time notification in your app, inclusive of details on what has been purchased and for how much.
Similar to cash approvals, product approvals enable Vircle Wallet user to select specific items from a Vircle Merchant store to provide towards a dependant. In product approvals, your dependant would NOT be able to choose what to purchase at the store, instead you will pre decide what can be consumed by your dependant.

Example of a product approval: You provide your dependant an approval to go to a specific grocery shop to pick up only 1KG of KNIFE brand oil. In such cases, your dependant will not be able to purchase anything they wish with your approval and the merchant will be able to view the exact approval given by the wallet user to a dependant.
---
How do i track consumption and spend of my Child (V Friend) ?
---
Once you have given a V give spend approval, you will be able to view all given approvals by browsing your V Friend profile page. From your Vircle Friend page, you have a summarized view of all the approvals given and how much of each approval has been consumed. Click on each of the approvals listed under V GIVE details section.
Click on any of the V Give Detail approvals and depending on the type of approvals, the the approval view may differ. You will see these 4 icons quiet frequently on each approval, here is what these mean.
Approvals can be stopped by a provider. To Stop an Approval, just open the selected approval you wish to stop, click on stop approval next to your V Friends face image. Once you have stopped an approval, you cannot re-activate it. It ends and you will need to create a new approval once again. A stopped approval takes immediate effect and would not be usable by your dependant anymore.
When each approval is consumed by your child, you will receive real-time transaction notifications. Within approval details screen, head to transaction section and all transactions for this approval is listed. Just click on each and get detailed insights into what your child has purchased.
This is an example of a transaction receipt a parent gets. If the purchase type is "Food and beverage" Vircle extracts the nutrient data from the product catalogue an provides parents with details on the quality of food a child eats.
Health Insights
The health insights module gives parents insights into the nutrition value of the food a child consumes. Vircle is NOT just a payment platform but a platform to help parents nurture Smart, Healthy and Responsible children. The health module gives parents insights into the quality for food a child takes in school. When health is clicked, it brings you to the health profile and analytics service.
Parent may view and update their child's height, weight and gender and based on this Vircle has developed accurate data prediction models with the help of MOH and UKM School of applied science on nutrition requirements for a child. All school meals purchase data are crunched and based on nutrition score of the data, parents are given insights on the food choices of their children.

At the same time, for those participating schools, the food scores are compiled into a leader board to allow children to compete for leader board recognitions by eating healthy food.
---
Vircle User Account requirements
---
Vircle is Malaysia's 1st central bank regulated parental-controlled E-wallet to enable a wallet user (A Parent) to securely onboard a trusted dependant (child) into their e-wallet and provide for them spend approvals, paid for by the wallet user. Most ewallets in Malaysia are built for personal use and does not allow a wallet user to allow an external person to consume from their wallet.
The Vircle Wallet does not transfer money to a dependant account, instead Vircle implements a secure approvals engine which enables the wallet user to provide digital spend approvals to a dependant, think of it as a digital coupon or food coupon. However, Vircle allows the provider to set rules on how such spend can happen, i.e at which shop, for how much, how frequently and for what duration.
Vircle gives the provider/fund owner the ability to decide how the given fund is spent. Besides money, Vircle is also able to enable account owners to give approvals which are tied to services, i.e right to attend classes, access, benefits etc. It's a very flexible approval engine which is encrypted and secure, initially created to securely allow parents to give children as young as 5 years of age, digital allowances.
Who are the users in a Vircle system ?
There are 3 key users in a Vircle platform.
The Vircle Wallet User (Parent) – this is an individual user or parent providing spend approvals to any child or dependant.
The Vircle Friend (Child) – A child or dependant issued with a valid Vircle QR code or card, provided for by a school and registered into the Vircle app by a Parent or provider who performs a child identity registration into Vircle.
The Vircle Merchant Store – A legal business owner who has signed up as a merchant with Vircle and completed a business validation and compliance process.
A Vircle Wallet user (Parent) onboards a Vircle Friend (child) by registering them within the parent app. A wallet user can then proceed to give spend approvals to a Vircle Friend (child) at participating Merchant stores.
Vircle User Smartphone Requirement:
A Smartphone with the following Minimum OS versions are required;
Google : Android OS Version 8 and above
Apple : iOS Version 11 and above
*The minimum OS versions are dictated by the Bank Negara Malaysia for security reasons for all new payment wallet providers. As Vircle deals with child identity and security, we have utmost value and strict adherence to security of the devices we operate on.

The Vircle account owner (parent) must adhere to the following requirements to own and operate a Vircle Wallet Account.
Age Requirement:
You must be at least 18 years of Age to register for a Vircle E-wallet. if you are below
18 years of age, please obtain consent from your parents.
Valid Identity:
Please have a valid Identity as recognized by the Malaysian legal system. If you are a Malaysian Citizen, Malaysian NRIC number will be required when registering for an account If you are a non-Malaysian with Valid Residency pass, a Passport number is required. Non Residents foreigners are NOT allowed to use the Vircle service.
Vircle Terminologies:
One registered into the Vircle application, a Parent user should familiarize with Vircle terminologies used in the app. There are several terminologies to parents navigate through the cashless experience provided for by Vircle. Here are some of them;
V Friend - Your child or dependant for whom you are providing spend approvals for (allowances), using the Vircle application

V Give - Spend approvals or Allowances you have given to your V FRIEND (child)

V Receive - Currently not activated for use. It is spend approvals you have received from others who are providing for you.

V Groups - These are safe groups of stores where Vircle purchases can happen, such as a school or other circles that your V Friend (Child) is part of. Within a V group you have approved stores where your dependant may safely transact spend approvals given by you. A school is an example of a V Group.

Approved Stores - These are stores within a V Group circle at which spend approvals can be consumed at. Schools determine which stores can participate in a school group.
---
Top up my ewallet?
---
To top up your E-wallet, from your Vircle Home Quick luanch Menu or Settings Menu, please select Wallet Top up function. You will be taken to the Top Up function.
Select Payment Methods, supported are ONLINE BANKING & CREDIT CARD Select amount : Take note, current Wallet size is RM 200, so at any point in time, your wallet can only reach a Max size of RM 200. You may top up many times in a day as long as the wallet limit remains at Rm 200. We will soon be upgrading our Wallet Size to RM 1500, upon approval from BNM.
Take note, all Top up is done via secure banking partners, see Ewallet FAQ guide for more details. Getting further support Please refer to our help guide online: https://www.vircle.com/help
---
Spend Approvals - Product Selection
---
Product pre-selection allows parents to pre-select items from a store that a child can pick up. Product pre-selection does not require upfront payment and works same as cash approval. Its an approval a parent gives which only converts into a sales when a child actually picks up the item in store.

Step 1: Select the Approval Type as Product Selection
Step 2: Select the Stores where this spend is Valid, for product, you may only select 1 store.
Step 3: Select the Spend Frequency as anytime OR daily recurring. Anytime allows the child to complete the purchase anytime between start date and end date while daily recurring allows for recurring approvals on fixed dates.
Step 4: Select Valid dates – Set a start and end date as this example is an anytime approval
Step 5: Click next and confirm.
Step 6: You will be prompted to enter you 6 Digit Transaction PIN created during registration process.
---
---